The aim of the law's definition is to ensure that anyone selling their body(engaging in prostitution) is doing so willingly, as a matter of free choice. Whether this can be said of any of the women here, I am not sure." It is no different for many other jobs.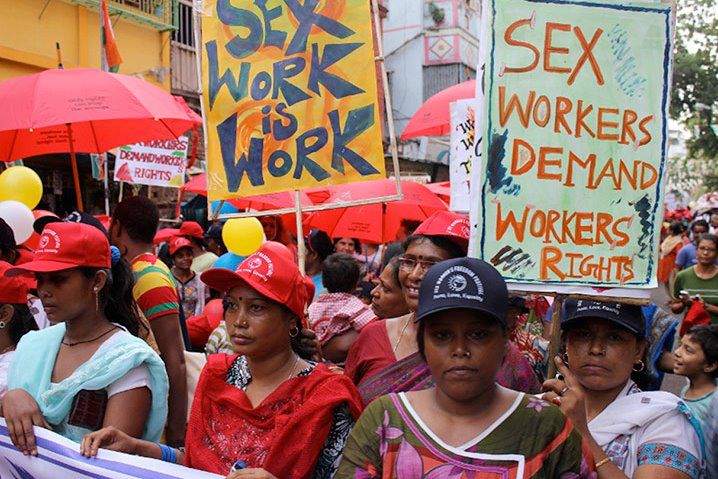 ABSTRACT
Prostitution has been a vital institution in every society. It has played its role in the War zone being significant assets as a Honey trap. However, their role has rarely been perceived or valued anywhere. Prostitution will consistently lead to moral entanglement in democratic social orders with capitalist economies; it attacks the territory of personal sexual relations yet beckons for regulations. A society's response to prostitution goes to the center of how it picks either the rights of specific people or the protection of others. Our constitution has fabricated a more secure environment for Women in India however it has one or another been planned in a manner that excludes prostitutes. A survey of the accessible research literature demonstrates that they enjoy no medical facilities, no education, no protection against sexual harassment, and no administrative character. Thus, they cannot partake in any principal protection allowed by the Indian constitution. The methodology will be both Primary and secondary. The information investigation plans to decide if the previously mentioned theory is correct or not and recover, we will examine the beginning of prostitution, role of this institution, laws and provisions identified with prostitution in India, and all the shades of malice or provisos ought to be controlled in order to secure the Women and Children associated with this profession.
INTRODUCTION
Prostitution is the business or practice of offering sexual types of assistance to someone else as a trade-off for installment. The Prostitution profession is arising quickly around the world, specifically in Pakistan. The purpose of this article is to examine the factors responsible for clients' disposition and reasons that slanted young ladies towards prostitutes, and the impacts of subsequent activities on their partners or children. This article is subjective in nature and considers in-person meetings with the 33 ladies' prostitutes from rural areas of Nut Purwa district Uttar Pradesh and other areas of Uttar Pradesh along with the author's social internship with Saksham Mahila Samiti, Alwar, Rajasthan. In discoveries, there were ere numerous driving factors of ladies' association with sex work, some voluntarily and others involuntarily. In voluntary, destitution, more regrettable financial conditions, sickness in the family, obligation, sex for satisfaction, peer affiliation, family neglect, homegrown conflicts, chronic drug use in spouses and in involuntarily, constrained rap, sexual assault, early relationships, dealing, misled by family, bamboozled by the sweetheart. Considering the outcomes, ladies prostitutes needed to confront more regrettable and extreme results in concern for their well-being like unwanted pregnancy, fetus removal, unwanted kids, HIV/AIDS, Drug addiction, ovarian issues, breaking the pieces of the body, and some other mental and social issues and in regard of clients' conduct like declining of installment, hijacking, and sexual assault, beating, powerfully harmful demonstrations, violence, drug mishandling, compromising, tie and sexual maltreatment. In India, most individuals do not know about the idea of prostitution. Prostitution is sex occupied for commercial reasons rather than for the good of its own; it coins sex as work. Nonetheless, the word prostitution does not simply allude to commercial sex; regularly, it additionally conveys a solid regrettable underlying meaning that mirrors the abuse of the training felt by present-day Western culture (and different social orders). The people who would rather not underwrite this abuse, especially many prostitutes, have taken to utilizing the expression sex work given the circumstances. Although this may be more suitable in specific settings, it cannot supplant the more established term in any conversation aiming for precision. Sex work is a lot more extensive term covering, notwithstanding prostitution, various kinds of work in what might be known as the sex business: erotic entertainment, sex shows, sexual surrogacy, and so forth Prostitution is a sort of sex work that includes granting the customer direct sexual admittance to the prostitute's body. This might include undeniable sexual intercourse, yet regardless of whether it, it varies from sex shows, for instance, in that it typically gives sexual fulfillment to the customer through direct actual contact or some likeness thereof. Besides, the arrangement of such help is indiscriminate: like some other sort of administration, inside specific cutoff points, anyone able to follow through on the cost asked will be acknowledged as a customer. In every nation of the world, chains of importance exist inside both female and male prostitution (West 1992, Aggleton 1999). At their summit are independent, self-employed grown-up prostitutes who practice a significant degree of control in transactions with clients and whose profits are high their base is people who gain no monetary award from their prostitution and exercise nothing, assuming any command over it (counting command over condom use). This might be on the grounds that they are genuinely constrained into a given work system by an outsider pimp or whorehouse attendant, yet it might likewise be on the grounds that super monetary and social underestimation, as well as youth and additionally illicit drug use, renders them terribly frail inside transactions. Between the two limits are prostitutes who either work independently or go into some type of employment with an outsider. The level of control they practice about whether, when, how frequently, and based on what conditions they prostitute changes as indicated by a scope of factors, including their degree of financial franticness; the contractual type of the prostitute client trades they go into; and the legal, institutional, social, political, and philosophical setting in which they whore. There are, for instance, settings in which prostitution law so intensely punishes independent prostitution that it effectively works as a strain on prostitutes to enter and stay in outsider-controlled prostitution regardless of how manipulative the outsider might be. Similarly, in settings where certain social gatherings (for example, ladies, kids, homosexuals, travelers, specific stations, or racialized minorities) are downgraded, and additionally denied full juridical subjecthood, or potentially denied independent admittance to government assistance support, their vulnerability to prostitution and to outsider double-dealing and maltreatment inside it is expanded.
HISTORY OF PROSTITUTION IN INDIA:
As per the historical evidence, Tawaif was a courtesan who obliged the honorability of India, especially during the Mughal period. The Tawaifs dominated and added to the music, dance (mujra), theater, and the Urdu literary custom, and were viewed as an authority on etiquette. Tawaifs were to a great extent a North Indian institution vital to Mughal court culture from the sixteenth century onwards and turned out to be significantly more prominent with the debilitating of Mughal rule during the eighteenth century. They contributed to the continuation of conventional dance and music structures and afterward the emergence of current Indian film. Goa was a province in Portuguese India set up in the mid-sixteenth century, and this Portuguese fort contained a community of Portuguese slaves. During the late sixteenth and seventeenth hundreds of years the Portuguese trade in Japanese slaves brought about traders from the Portuguese Empire and their hostage lascar team individuals from South Asia bringing Japanese captives to Goa. These were normally youthful Japanese ladies and young ladies brought or caught from Japan as sexual slaves. The way of life of the performing specialty of nautch, a charming style of well-known dance, rose to noticeable quality during the later time of the Mughal Empire and the standard of the British East India Company. During the time of Company rule (and after the Indian Rebellion of 1857, the immediate organization of the British Crown), British military components set up and kept up with brothels across the Indian subcontinent. The prostitutes who worked in such brothels were selected from provincial Indian families and paid straight by the British authorities. The seedy areas of the town of urban communities, for example, Mumbai created right now. The governments of Indian royal states had controlled prostitution in India before the 1860s.
YOU MIGHT ALSO LIKE: The Shocking Truth about Rape Victim Privacy!
The British Raj enacted the Cantonment Act of 1864 to control prostitution in colonial India as an issue of tolerating a necessary fiendishness. The Cantonment Acts directed and organized prostitution in the British military bases which accommodated around twelve to fifteen Indian ladies kept in brothels called Chaklas for each regiment of thousand British fighters. They were authorized by military authorities and were permitted to associate with troopers as it were. In the nineteenth and mid-twentieth hundreds of years, many ladies and young ladies from mainland Europe and Japan were trafficked into British India, where they worked as prostitutes adjusting to British warriors and neighborhood Indian men. They were Artists treated like animals, then as well as now with the living Constitutionalism. Many Acts were enacted, many bills were argued in parliament, along with catena of the Supreme Court's interpretations, and yet the reality stays the same, horrifying.
LAW
The first question that pops into one's mind should be: Is prostitution legalized in India? And the answer to that is Yes, it is legal. On the one hand, the Indian laws legalize sex work however on the other hand criminalize certain activities associated with it, leaving no room for recognized labour rights. Indian law has neglected to ensure the rights and security of individuals in prostitution and sex work. In addition to the fact that it takes a moralistic methodology, yet it is likewise ambiguous, leaving sex workers defenseless against maltreatment by police, government authorities and frivolous crooks. The primary law managing individuals in sex work is the
Immoral Trafficking (Prevention) Act (ITPA) of 1986 tries to forestall the trafficking of people in India and disallows most outward indications of sex work, including massage parlor working and public solicitation. It likewise takes into consideration the removal of sex workers from their residences for the sake of public interest. While the stated motivation behind the ITPA is to ensure sex worker's rights, it is utilized against them. The act does not explicitly disallow prostitution, yet law enforcement authorities have consistently utilized it to bug sex workers. The prohibition against public solicitation is especially ambiguous. Cops have been known to blame workers for solicitation, and afterward demand payoffs or free sex. Shabana, a sex worker in Karnataka who works with the sex workers collective VAMP, reports, around evening time, the police would come to us and engage in sexual relations without condoms. They would drive us to engage in sexual relations with them, and afterward go off in the first part of the day. Then, at that point, toward the beginning of the day some other police constable would come and say, Shabana, there is a body of evidence against you. Come to court with us. They would blame us for things that we had never done. You were remaining active, your bosoms were not covered with your Pallu, and you were playing with men in the city. That is the reason there is an argument against you. However long the law gives extreme authority to prejudices and ruins police authorities and government authorities, stories, for example, this one is inescapable. There are many aspects of the Working conditions of Sex industry which are not yet investigated or inspected. Many NGO's have been fighting for years to provide a dignified position to sex workers in the society by conducting legal, medical & financial interventions, conducting bootcamps about legal awareness and sexual hygiene awareness, have collected data from various prominent sex workers areas to get an informed picture of needs and necessary changes in the lives of the community.
FACTS ON PROSTITUTION IN INDIA:
8 million sex workers in India
There are presently 1.8 million sex workers in India, among which 10% are male (known as escorts) and the rest are females (known as prostitutes). It's a misinterpretation that sex workers are just females. Yet, it is that some incline toward men to perform sexual activity. This profession is the most seasoned profession; it is traced all the way back to 2400 BC when ladies were shipped off sanctuaries to engage and fulfill the ministers. Thus, it is not astounding that ladies are yet considered an item to fulfill men.
Normal age of a sex worker in India is 18-
Internationally, the normal age of a sex worker is 13, however in India, its 18, which does not imply that this benchmark is obliged. There are sex workers prostitutes more youthful than 18, since the whorehouse attendants accept that the clients incline toward more youthful sex prostitutes to offer the clients their administrations. Aside from this, it is likewise simple to control a youngster and shape them as per the conditions. At last, this prompts youngster misuse. As indicated by the reports dated back to 2009, there are 1 million youngster prostitutes in India. Likewise, presently, over 60% of prostitutes are underage.
One out of ten men pay to have sexual interaction with sex workers
It gives a sexual option in contrast to men who do not have a sexual accomplice or are disappointed with their present sexual accomplice. As per examines, its recorded that when an accomplice entertains himself/herself to have sexual contact with a whore, it helps keep the separation rate low, since having contact with a sex worker doesnt require any enthusiastic holding which doesnt give any space for unfaithfulness. Some view that the impropriety of prostitution ought not keep our society from managing it than it does now.
Prostitution is a thriving industry
It's a dubious statement, most definitely. Since men pay a decent measure to the sex workers for their administration, pimps who own the workers procure a decent pay out of it. They Are typically not named as pimps rather are known as their sweetheart, sweetheart, or conjugal accomplice. In India, brothels additionally called Kota which are controlled by the proprietors or Malikins are the ones who partake in the benefits. This outcomes in helpless pay for the sex worker. 73% of the workers procure around Rs. 3000 Rs. 5000 every month, while 27% of workers procure around Rs. 7000 Rs. 10000.
75% of sex workers face physical and mental maltreatment
In a review, it is stated that around 75% of sex workers face physical and mental maltreatment. Many prostitutes accept that they are playing out a significant help for their clients, and this conviction is maybe more normal among indoor prostitutes than among road prostitutes; sex workers manage various types of clients that have various states of psyche. A few men lean toward vicious sexual commitment and misuse the individual's help.

80% of sex workers are assaulted
Around 80% of sex workers are assaulted. Despite the fact that the sex workers procure a thoughtful pay, they lead a deadly and rude life, in any case. Violence against prostitutes is never viewed in a serious way because of their profession, yet even sex workers for sure face misuse, infact, the most noticeably awful sort of misuse. Its transcendently looked by ladies and the outrageous case incorporates murder. Women's activists accept that prostitution is corrupting to ladies and gives a setting where prostitutes are burglarized, beaten, and additionally assaulted.
65%-85% of all prostitution is pimp-ruled
Most prostitution includes pimps. Wellbeing specialist organizations, cover staff, overcomers of prostitution, and law enforcement sources gauge that 65%-85% of all prostitution is pimp-overwhelmed. Despite the fact that there are indoor sex dealings, the vast majority of the workers are worked by the pimps. Pimps assume responsibility for each activity of the worker, regardless of whether that requires bailing of the worker whenever condemned with an offense. They live off the pay of the worker and remove the vast majority of their compensation. Illegal brothels are run in metropolitan urban communities like Delhi, Mumbai, Kolkata, and Chennai.
Individuals from country regions and monetarily in reverse foundations are fooled into going to the urban communities for employment. Men, ladies, or youngsters who are guaranteed some work are generally beguiled and tossed to the insidious side of society. They become the casualties of sex trafficking and are offered to the massage parlor guardians. Consequently, it advances sex trafficking. The reports from the capital Delhi features that over 41% of ladies enter this stream because of sheer destitution and 39% of individuals enter at their own will.
Prostitution is sexual abuse, not sexual freedom
Its a confusion that a worker will perform sexual activity with accomplices paying little heed to sex. As indicated by the examination performed by the researchers, they accept that such activity performed for a delayed period prompts vulnerability or annihilation of a woman's/monitors sexuality. In this business, even a heterosexual male or female needs to offer their support to a similar sex. The inclinations rely upon the customer with what sort of individual they need to have sexual commitment. Regardless, the sex worker needs to oblige to the desires to satisfy the customer.
One of the medium to spread STIs-
It is viewed as one reason for the boundlessness of Sexually transmitted illnesses. The sex workers are regularly inclined to be impacted by lethal vernal infections or turning into the vehicle of spreading such sicknesses. In India, after the enlivening of the emergency which can prompt grave illnesses, for example, HIV and contaminations like Herpes, half of the sex workers have inlined to utilize condoms and request their clients to utilize it to forbid the spread from these infections. In spite of the best efforts given by the Social government assistance division, there's very little improvement past the periodic exams and unfortunately, the law does not perceive these ladies.
All these factors led to major movements for the rights of sex workers in India. All the Non- governmental Organizations working for the the gain of prostitutes have participated in the movement with different issues. Some movements were for equal labour rights, some were for the abolition of pimps from brothels, some were for renting homes, and some were for fundamental rights like the Right to vote.
MAJOR MOVEMENTS BY SEX WORKERS:
"The government is unwilling to grant us labour rights." We want Self-Regulatory Boards to prevent minor girls from entering the trade. Before they begin work, new entrants will be scrutinised by us."
"I've worked hard to earn money since I joined the queue." I never beg. I never steal. I am a law-abiding citizen who pays my rent and all of my expenses, but I am still beaten by the authorities. Where do we go for safety, please? I am furious at the police for violating our rights, holding us in police custody involuntarily, and causing us to be stigmatised in society?"
The working conditions of sex workers in India are appalling, and the industry is beset by structural obstacles. Existing state rehabilitation programmes frequently violate their bodily autonomy and serve as moral disciplinarians, leaving them vulnerable to violence. Shriya Patnaik discusses the central issues while also shedding light on grassroots movements advocating for their acceptance into society.
The Durbar Mahila Samanwaya Committee (DMSC), which has over 65,000 members in Kolkata, began as an HIV prevention project but quickly expanded into an occupational health and labour rights framework. In addition, two active national sex worker advocacy networks of community-based sex worker organisations exist in India. In India, the relationship between these networks and labour activism has been rocky, but invoking the labour movement plays an important symbolic role in affirming sex work's status as labour and beginning to connect with other workers in the informal sector. The examination of sex work as labour is not novel: Marx stated in 1844 that "prostitution is only a specific expression of the general prostitution of the Rohini Sahni: Prostitution and Beyond: An Analysis of Sex Work in India (2008) labourer," and feminist scholars have increasingly challenged stereotypes of sex workers as criminals or deviants by emphasising their similarities with other reproductive labourers. This analysis evolved through discussions with activist movements: sex worker organisations have advocated for sex workers' rights in Ecuador, Malaysia, Thailand, South Africa, Uruguay, and India.
Sex worker organisations that actively position themselves as labour unions, on the other hand, are more rare. Several sex worker organisations have formal affiliations with trade union "umbrella" organisations, including the International Union of Sex Workers in the United Kingdom, Red Thread in the Netherlands, and AMMAR in Argentina. Hardy distinguishes three "waves" of global sex worker organising: a first wave of "deviance liberation" movements in the 1970s and 1980s, a second wave of movements worldwide that began with HIV/AIDS goals and moved towards a greater emphasis on labour issues and human rights, and a third wave of movements that specifically identify as trade unions, such as the KSWU. Despite the difficulties of joining the labour movement, KSWU members' position as workers allows them to demand rights as citizens while also redefining "work."
Simultaneously, consolidated sex workers' organisations have entered the fray, initiating a process in which governments have been forced to recognise the diversity of positions on these issues in several countries. These organisations arose in the last 25 years as a result of the HIV/AIDS epidemic, which resulted in numerous political developments such as the rise of patient-led health activism and the rise of sex worker organising in countries such as India. Organisations such as SANGRAM in Southern Maharashtra and the Durbar Mahila Samanwaya Committee (DMSC) in Kolkata emerged in the 1990s in the aftermath of HIV/AIDS and, like their Western activist counterparts, were drawing links between HIV and other concerns such as migration, livelihood, and housing, as well as access to basic services. In the early 1990s, non-sex worker activists formed HIV prevention outreach projects, which grew into organisations with sex worker-led initiatives and legions of sex worker advocates and peer educators by the early 2000s. Because of the prominence of the force/choice dyad (whether a person selling sexual services is doing so voluntarily or because they are forced) in structuring the question of prostitution itself, sex workers' organisations have had to address the issue of agency. Although the term 'agency' does not mean 'choice' or 'free choice,' it has frequently been used in both women's rights and sex workers' organising in place of 'choice.' In anthropological and Marxist scholarship, the term 'agency' has been associated with critiques of power that use 'agency' as a way of identifying and describing individual actions within the context of structures such as class. 'Agency' is best defined as minute, individual, and contextualised structural power negotiations. The need for sex workers' organisations and their allies to engage with the concept of 'agency' is complex, stemming from the need to engage with the force/choice dyad. This dyad is an oppositional and individualist framing of the two paths that abolitionists and the mainstream media have taken to understand why women and girls engage in sex trades. Sex worker activist groups and their allies can reframe the question of choice as one of 'agency' in relation to structures like class or poverty, allowing for more contextualising factors like livelihood, free trade, and state violence to be considered in the sexual commerce debate. Reframing the debate through a more nuanced use of the term 'agency' is on the agenda for new movement alliances forming at the intersections of sexual commerce and governance. These alliances include LGBTQ and feminist organisations with a personal stake in governments and civil society adopting a more progressive, structurally integrated approach to sexuality. One example is the statement from the Indian autonomous women's conference at the beginning of this paper. LGBTQ alliances, such as the 2004 World Social Forum (WSF) alliance between queer and sex worker organisations, are another example; this alliance made the concerns of sexual minorities visible at the WSF and called into question the notion that sex workers are only, or primarily, women. More broadly, the alliance of LGBTQ and sex workers' organising highlights the ways in which people who are sexually non-normative have shared concerns about social stigma and the state's regulation of their lives. While these alliances are promising and much needed, others have yet to materialise. The gap between the sex workers' and Dalit rights movements in India is notable in this regard. Because a considerable number of sex workers on the streets and in brothels in India are from scheduled castes and tribes, sex workers' rights may be of interest to the anti-caste movement. The reasons for the failure of this alliance may be related to the debate over the relationship between caste and prostitution, and whether prostitution is viewed as a manifestation of caste-based oppression, or as a means of negotiating this oppression to achieve a better livelihood than would otherwise be available. Furthermore, alliances between the sex workers' movement and the organised left are changing. Some left and new left organisations have supported sex workers' demands for greater recognition as members of a labour sector in need of trade union protection, with the National Trade Union Initiative's recognition of the Karnataka Sex Workers' Union in 2008 being a case in point. At the same time, major segments of the left are divided on whether sex work should be considered labour.
March 3: International Sex Workers' Rights Day- Despite protests pressuring the government to revoke the parade permit in 2001, over 25,000 sex workers gathered in India for a festival organised by a Kolkata (Calcutta)-based group called Durbar Mahila Samanwaya Committee (Unstoppable Women's Synthesis Committee).
The All-India Network of Sex Workers, an umbrella group of sex worker organisations, campaigned for pension rights on March 10, 2014. The Network, which represents 90 sex worker organisations from 16 Indian states, presented a letter stating that sex workers in India are not treated equally in terms of social security, stating: "Sex workers, including their family members, cannot access various social entitlements that are offered to citizens in general." We regard sex work as any other unorganised sector occupation, and we believe it should be included in the universal pension scheme." A Network spokesperson also told the media that sex workers in India retire "by the age of 40-45 years," which is younger than the general population.
Catena of such cases was filed in the various High courts and the Supreme Court of India to ensure these rights of sex workers. A few interpretations made by the judiciary were very harsh towards the people of this community, but few made the lives of sex workers a little easier and more dignified.
Landmark Judgements on the Rights of Prostitutes:
Prostitution is not an offense in and of itself under the Indian Penal Code, but sexual exploitation, seducing someone, running brothels, pimping, soliciting, and other similar activities are punishable under the Immoral Trafficking (Prevention) Act of 1956. The Immoral Trafficking Act (1956) defines "prostitution" as "sexual exploitation or misuse of any person for any business purpose." Though Sections 366A, 366B, and 370A of the Indian Penal Code deal with the punishment for procuring a minor girl, importing a girl from another country for sex, and exploitation of a trafficked person, respectively. As a result, prostitution laws in India are quite limited under the Indian Penal Code. Existing laws for sex workers need to be amended because the lives of prostitutes differ from those of ordinary workers in that a sex worker is constantly exploited by customers, low wages are paid for their services, they are considered an outcast by society, and their profession is considered derogatory. Sex workers are equal citizens of the country, entitled to the fundamental rights guaranteed by the Indian Constitution. The courts have passed a threshold of judgements in favour of sex workers' rights, an attempt by the judges to bring sex workers on par with workers in other industries while disregarding societal stigma and disgrace encountered by them.
Kajal Mukesh Singh & Ors v. State of Maharashtra (2021)
'Prostitution is not a crime; a woman has the right to choose her profession.'
A, B, and C are the petitioners.
Maharashtra is the respondent.
Under the Immoral Trafficking (Prevention) Act of 1956, the petitioners were victims of pimping. To conceal their identities, they are given the initials A, B, and C in the records.
Three sex workers filed the petition, which challenges the order of Metropolitan Magistrate Mazgaon as well as the order of Additional Sessions Court Dindoshi, which upheld the earlier order.
Facts of the Case
Complainant Rupesh Ramchandra More and one police constable who secretly received information about a pimp named Mr. Nizamuddin Khan who organises customers for prostitutes at a guest house in Malad Mumbai laid a trap.
Two people were summoned to act as a decoy for the pimp, pretending to be one of his customers interested in his services.
The trap was set up in such a way that the police raided the guest house where the accused had arranged for the decoy prostitute.
The accused were arrested, and the victims were taken into custody.
Observation of the Bombay High Court
The Magistrate ordered an investigation into the victims' ages and a medical examination to determine their health status.
An NGO was given intermediate custody of the victims to provide them with primary education and counselling to keep them from becoming prostitutes.
The reports submitted by the probation officer and the Magistrate revealed that they belong to the 'bediya' community, where girls are sent into prostitution after reaching puberty.
Because their parents agreed to them being prostitutes, the magistrate refused to give their mothers custody of the victim.
In the Court of Session at Dindoshi, an appeal was filed challenging the said order which was dismissed.
For one year, the victims were detained under a government institution called 'Nava Jeevan Mahila Vastigruha' for their care, protection, and shelter.
The Court ruled that the victims who had been detained for a year without being prosecuted were declared guilty in the case, despite the lack of a final order.
It was determined that both subordinate courts treated the matter at hand very casually, ignoring the factual matrix of the case, specifically Section 17 of the Immoral Trafficking (Prevention) Act.
The Court observed that the Act does not authorize the Magistrate to detain the victims for more than three weeks without a final order from the Court.
The inquiry under subsection (5) is to be conducted by a panel of people with a social work background, at least three of whom should be women.
The Court also stated that the word 'may' should be interchangeable with the word 'shall', as held in the case of Kumari Sangeeta & Anr v State & Ors (1995), that because the word 'may' is used, it does not specify discretion of the Court, but one should look at the legislature's intention which it intends to convey through an enactment.
The Court emphasized that the purpose of the act is not to outlaw prostitutes or prostitution; rather, what is punishable is sexual exploitation, commercial sex, and where a person is running a business.
After reviewing all the case's facts and circumstances, the Court concluded that there is nothing on record to suggest they were seducing someone or running a brothel.
They, too, have the right to live freely in any location of their choosing and to pursue their vocation as they see fit, as guaranteed by Part III of the Constitution.
The victims' consent should have been obtained before placing them in a prison, as they are majors with all the same fundamental rights as ordinary citizens.
The orders of the metropolitan magistrate and the Court of Session were both overturned, and the victims were released

.
Manoj Shaw and Majoj Kumar Shaw v. State of West Bengal (2013)
'Rather than being accused, sex workers should be treated as victims of crime.'
Manoj Kumar
West Bengal is the respondent.
The analysis of the Kolkata (Calcutta) High Court
The chief judge of the Kolkata High Court directed the investigating officer to issue a notice under Section 41A of the Code of Criminal Procedure to the owner of the health spa who had employed minor girls in the prostitution business in his spa. According to the judicial officer's reports, the investigating officer was supposed to be present during the hearing but was not.
The Court stated that in cases where the offence is punishable by 7 years or more, the investigating officer should consider all facts to determine whether issuing the notice under Section 41A of the Code of Criminal Procedure is in the best interests of justice. The Court held that such serious offences as carrying out prostitution under lawful businesses like health spas, etc., require sensitivity and attention and should be dealt with seriously. On the contrary, only a warning was issued to the spa owner, and the victims, who were already exploited and come from a low-income and illiterate family, were imprisoned. The victims were minors, and forcing minors into prostitution carries a seven-year prison sentence under the Immoral Trafficking (Prevention) Act.
The entire case exemplifies the obvious flaws in the justice system, as the minor girls who were victims were made more vulnerable to threats, intimidation, and so on by being imprisoned as if they were the accused themselves. The petitioner's anticipatory bail was denied because the Court determined that the petitioner must be interrogated. The Court issued a show-cause notice to the investigating officer and ordered the victims' statements to be recorded in accordance with Section 164 of the Code of Criminal Procedure. The victims were ordered to receive interim compensation through the state victim compensation scheme, as well as rehabilitation in accordance with the law.
Budhadev Karmaskar v. State of West Bengal (2011)
'Sex workers have the right to a dignified life, as guaranteed by Article 21 of the Constitution.'
Budhadev Karmaskar is the appellant.
West Bengal is the respondent.
The Court's Observations
The appellant's appeal was denied after he was convicted of murdering a sex worker by repeatedly hitting her head against the room's wall and floor. Suo moto, the Court filed a PIL to address the problems of sex workers. A panel was formed, which included an advocate, experts from the social work field, and resource people. With the assistance of a constituted panel established for the purpose, the Central and State governments were directed to initiate schemes and policies for vocational and skill training, as well as the rehabilitation of sex workers. The Court ruled that sex workers are ordinary people with the same right to a dignified life as everyone else, as guaranteed by Article 21 of the Constitution. The Court's major concerns were as follows:
To combat sex trafficking
To rehabilitate those sex workers who want to leave the sex industry.
To provide a dignified life and dignified working conditions for sex workers who want to stay in this industry.
The Court stated that the rescue mission will fail unless the link between the traffickers, sex workers, and family members is severed. The Court also ordered that NGOs (non-governmental organisations) and state governments provide a helpline number for people to call in order to resolve their issues and seek legal advice when necessary.
Gaurav Jain v. Union of India (1997)
'Children of prostitutes have the same right to opportunity, care, and protection as other children.'
Gaurav Jain was the petitioner.
Union of India is the respondent.
The Court's Observations
In this case, the Court noted that an advocate filed a PIL after reading the'red light trap' in India Today magazine. He prayed for separate inns and vocational training schools for the children of prostitutes because the environment they live in is not healthy for children and by living separately they would be able to be part of the mainstream public. The Court also stressed the abolition of prostitution. It also ordered the construction of juvenile homes for vocational training and separate hostels for these children. The Supreme Court Bar Association, with the assistance of the original petitioner Gaurav Jain, filed a review petition before the Court to reflect the nature and scope of Articles 32, 142, and 145 (1) of the Constitution, as well as to formulate directions for the abolition of prostitution. The Court overruled the directions for poverty eradication but upheld the directions for the establishment of juvenile homes for the children of these sex workers.
Delhi v. Pankaj Chaudhry & Ors (2009)
'No means no, even if a woman is a model of virtue.'
Delhi is the appellant.
Pankaj Chaudhry and Others are the respondents.
Court observations
The Court overturned the Delhi High Court's decision to acquit four gang rape suspects and upheld the trial Court's conviction. The conviction of the accused was overturned by the Delhi High Court because the women were in police custody at the time of the alleged rape. Even if the woman is immoral, the Court ruled that no one is allowed to rape her. She is just as safe from harassment as any other ordinary citizen. The Court claimed that the High Court erred by relying on the respondent's arguments and ignoring the women's complaints. The officers were also not allowed to be heard. The Court overturned the grounds established against the police officers for lying under oath. The Court emphasised that even if it is proven through material evidence that a woman is habitual of sexual intercourse, no one can take advantage of her by raising the issue of her character or by contenting that she is a woman of 'easy virtue'. According to the Court, such women have the right to refuse to submit to sexual intercourse. The accused was sentenced to ten years in prison by the Court as was held by trial court earlier.
All these judgements are a step forward to a better life for people working as prostitutes and would lead to more such steps in future.
CONCLUSION
As I conclude the article, I will request the readers to take a moment and adhere to the seriousness of the issues presented here. While sex laborers' coperatives have shown colossal advancement in affirming the freedoms of sex laborers across India, they face a daunting struggle as the nation keeps on encouraging a globalized economy. In the globalized world, sex work will turn out to be more systematized, working through escort benefits and will presently do not require conventional roadhouses of ill-repute. Therefore, individuals in sex work should be prepared as elegant escorts, requiring the mediation of marketed business venture. Working class prostitutes lose all autonomy; they presently do not work for themselves, however, presently depend on others to prepare and set them up for this sort of industry. Helpless sex laborers have no bearing in the globalized world. The working-class men that used to purchase their administrations have either gone to the privileged (and presently just take undeniable level escorts) or have been downsized by the new economy and cannot manage the cost of a prostitute. They are left with no work. For sex laborers in India to get to and partake in their freedoms, enormous qualms and legalization of sex work should be separated. The sex laborer doesn't really need or need to be safeguarded; they are not danger to the more prominent virtuous society, nor a mobile instance of HIV. Moreover, they are fit for supporting themselves, and requesting their own freedoms. While they surely face separation and difficulties, individuals in sex work and prostitution don't require purposeless pity. They need the remainder of society to perceive and battle against their own confusions, decisions and unwarranted feelings of trepidation.